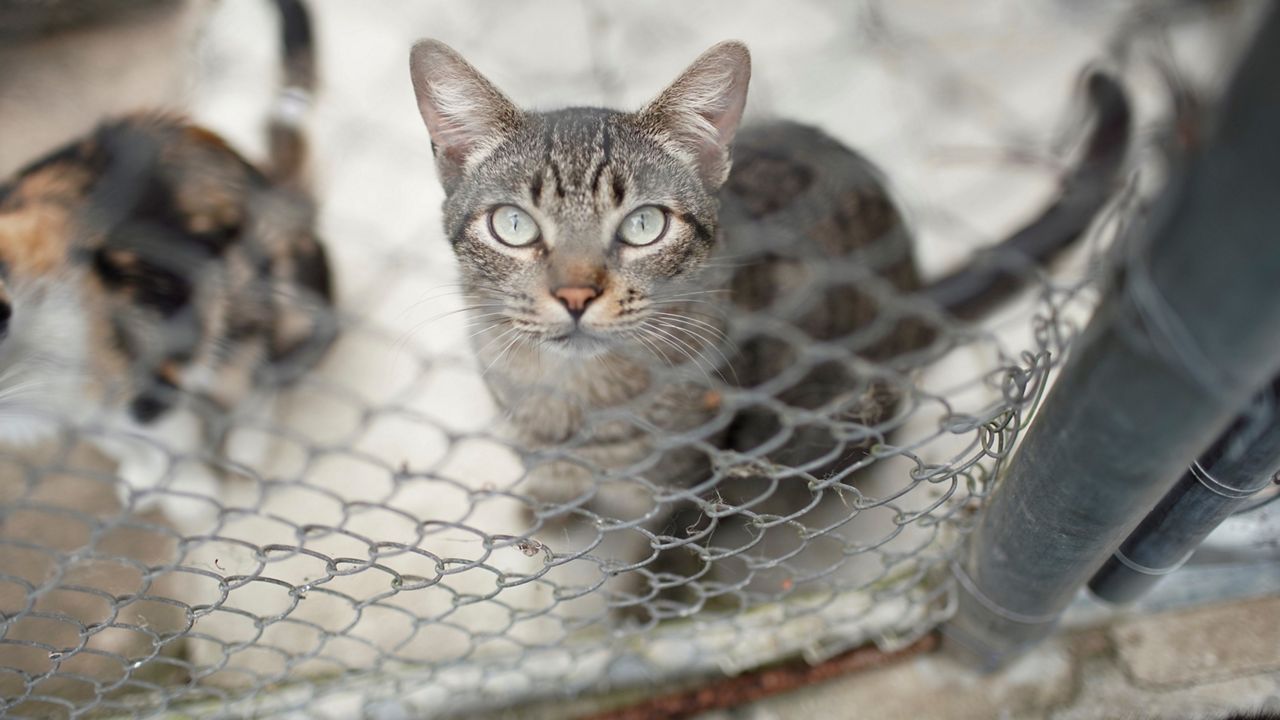 Advocates are convinced that Hochul wants standards for animal shelters
Governor Kathy Hochul has given subtle cues to the animal rights activists she supports to increase protections for animals in the care of a shelter or humane society, which could include signing legislation to create health and safety rules in animal rescue facilities.
The Pet Care Standards Act would set state standards to ensure that homeless dogs, cats and other pets are kept clean and safe while living in a shelter or care organization. rescue and waiting to be adopted.
The bill was drafted with recommendations from small, medium and large-sized shelters and would create a new licensing and inspection program.
Lawmakers voted unanimously to pass the measure this session, when it was first introduced.
"There is overwhelming bipartisan support for puppies and kittens, and in fact, puppies and kittens are the only thing left in our political spectrum that is non-partisan," Federation executive director Libby Post said Tuesday. New York State Animal Protection.
The law is based on the standards of the Association of Shelter Veterinarians.
"It just makes so much sense," Post added.
If the bill becomes law, the state Department of Agriculture and Markets will create standards and regulations of care for municipal animal shelters and humane societies with detailed new rules on record keeping, isolation requirements for sick animals, pen space, veterinary and transportation requirements and many more. others.
The department will annually license and inspect all shelters or rescue groups that care for homeless animals. Approximately 500 entities will be eligible for licensing.
Violations will be subject to a fine between $100 and $1,000 each.
"People looking to adopt an animal should be able to expect that the shelter they are adopting the animal from will meet certain basic animal care standards," said William Ketzer, Legislative Director. principal of the American Society for the Prevention of Cruelty. Animals.
Shelters and rescue groups are eligible for funding to help construct buildings or other improvements to prepare for increased standards of the $8 million pet fund in the budget of the 'State.
More than 100 organizations have received money from the fund to make facility upgrades, which can include new HVAC or plumbing systems, veterinary operating rooms, larger animal enclosures and more.
Governor Hochul included the Companion Animal Capital fund in her executive budget in January, indicating she supports the issue and may sign the bill to improve animal care.
Post said she believes Hochul would support the Pet Care Standards Act with her signature.
"When I saw her at an event and thanked her for signing last year's bills, she said, 'We're not done taking care of our pets yet. company,'" Post recalled. "I really think she will support this bill and the other bills that we have passed this session."
Avi Small, a spokesperson for Hochul's office, said the governor was continuing to review the legislation, but would not answer questions about whether or when she intended to sign it.
The State Animal Welfare Federation aids and advocates for more than 110 animal shelters and rescue organizations across the state. The federation has at least $147,000 in grants available to shelters and rescues for low-cost shelter counseling services by a group of animal welfare professionals.
Advice will be provided to 20 upstate organizations and six in New York. The education program will start in September.​
The bill will take effect three years after it is signed into law, giving shelters ample time to make necessary upgrades, Post said.
"No one will be left behind – that's part of the reason we've made these grants…to help shelters and rescues that need help improving their level of care because animals are the number a priority here," she said.
Some smaller shelters and organizations may merge to provide the required amount of animal care, Post said.
Federation consultants will train shelter and rescue center staff and help them be more cost effective within the proposed requirements.