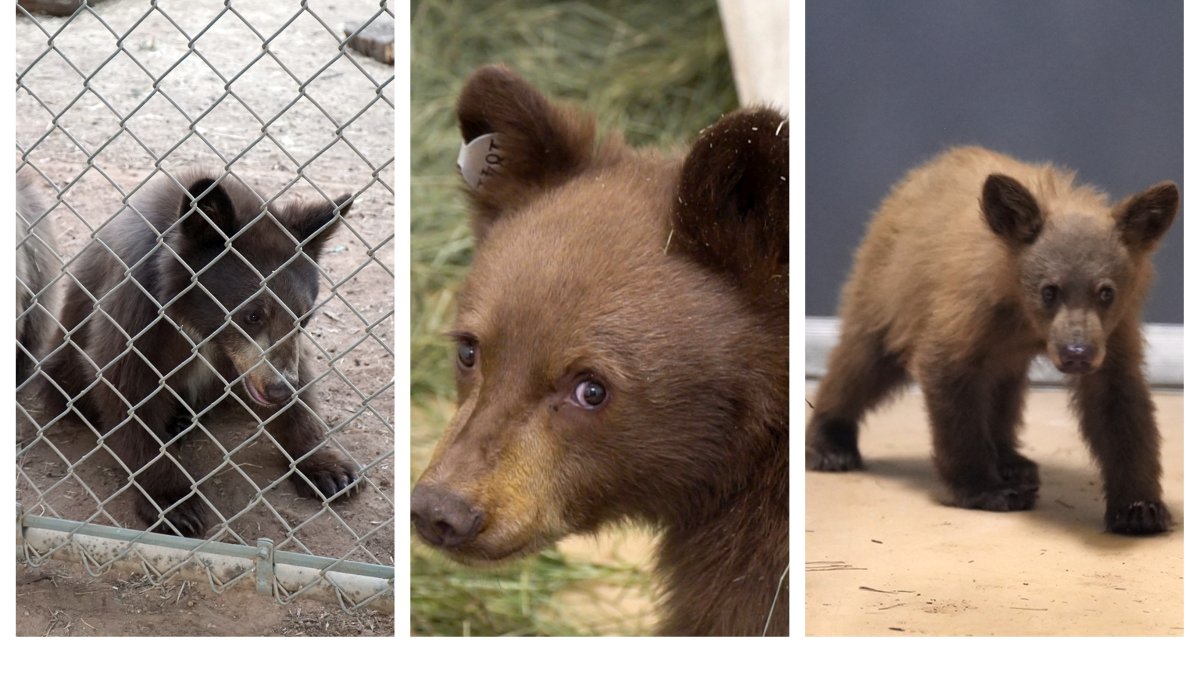 Amazing Animal Tales of San Diego in 2021 – NBC 7 San Diego
SD Zoo Gorillas Test Positive for COVID-19 (January)
A handful of gorillas from the San Diego Zoo troop have tested positive for COVID-19 after showing symptoms of the disease such as cough, congestion, lethargy and runny nose. Three of the zoo's eight gorillas tested positive for the virus on January 11, but vets reported they all ate, drank and interacted well.
The discovery led wildlife officials to vaccinate a group of zoo monkeys against COVID-19 months later to prevent another outbreak.
Pregnant bobcat treated for injuries after possibly being hit by a car (January)
Three lives were saved when the San Diego Humane Society's Ramona Wildlife Center rehabilitated a pregnant bobcat after she was likely hit by a car in Rancho Bernardo. The expectant mother was found injured on the middle of Bernardo Center Road, suffering from a broken jaw.
Vets treated the bobcat for weeks by stabilizing its jaw with wiring and sutures until they felt it was well enough to be released. Thanks to the dedicated care of the wildlife staff, the young feline and her two unborn kittens were doing very well.
A mother dog gives birth to puppies in a van on a rainy day (March)
It's a story that melted the hearts of social media users and a story that all moms could resonate with – this dog mom was in labor on a cold and rainy day and with nowhere to go, she got down to business. took refuge in a van to give birth to puppies.
The new mother and her newborn puppies were rescued by the San Diego Humane Society after learning the touching story. Once the puppies were old enough, they were placed for adoption and all found new families.
Man with prosthetic leg adopts Shih Tzu with amputated legs (June)
As if pet adoption stories weren't inspiring enough, the heartwarming 'foster failure' of a San Diego family really captured the spirit of animal rescues. of company.
Chloe the Shih Tzu is now a happy puppy with a loving home, but that wasn't always the case. Prior to his adoption by the Hunter family, his former owner wrapped bandages so tightly around his hind legs that it cut off his blood flow. She had to have surgery when she arrived at the San Diego Humane Society and received prosthetic legs. Then she was placed in a home where a family member understood Chloe perfectly and created an immediate bond as he himself has a prosthetic leg.
San Diegans saves 36-year-old pet during Caldor fire (September)
The relentless Caldor fire wreaked havoc on southern Lake Tahoe, consuming thousands of square feet of the northern California region in September and October. To help animals in need, two aid workers from San Diego traveled north.
Among the dozens of animals they helped save and secure was a 36-year-old parakeet named Pepe. The magnificent bird was left behind after its owners were ordered to vacate the premises due to the fire. Fortunately, the San Diegans were able to access Pepe and reunite him with his loved ones.
Four orphaned cubs receive care at the Ramona Wildlife Center (September)
Speaking of wildfires in northern California, the massive Dixie Fire has displaced hundreds of residents and disturbed natural wildlife in its path. After traveling through several scorching counties, a 7-month-old baby found himself alone and approached firefighters in the area. The lone bear suffered minor paw burns and was eventually taken to the San Diego Humane Society's Ramona Wildlife Center for rehabilitation.
Shortly after, triplet bears that were sadly found orphaned in Mariposa County were also taken to the Ramona Wildlife Center for much-needed care. By the end of September, the remarkable facility was in the care of four cubs at a time. There, the cubs learned to hone their natural skills and regained their full health.
Chihuahua without cancer celebrated after last round of chemotherapy (November)
Party hats, a puppy-friendly cake, and applause all around – this is how the San Diego Humane Society celebrated a special Chihuahua's successful battle with cancer. Eric, the 3-year-old doggie, overcame the illness after 17 cycles of chemotherapy and four months of veterinary care.
The dog arrived at the animal shelter as a stray animal in poor condition. He was covered in ticks, had blood on his paws, and was diagnosed with a cancerous tumor known as a transmissible venereal tumor (TVT) and a tick-borne disease called Ehrlichiosis. He was a tough puppy and after defeating the opponent he was eligible to reunite with his furry family.
Coyote rescued after getting stuck in the bumper of a car (November)
A female coyote has been released into the wild after being hit by a car and found trapped in the front bumper of a car parked at a supermarket in San Marcos. A passerby made the heartbreaking discovery and called the San Diego Humane Society for help.
Fortunately, the coyote survived the impact and after being freed from the car's bumper, was taken to the Ramona Wildlife Center for treatment. There she received treatment for a badly injured paw and the shock it suffered. After nearly three weeks of successful rehabilitation, she was released into her natural habitat.
A deep sea creature washes on Black Beach (November)
Residents of San Diego, who strolled through Black's Beach in late November, were shocked when they saw a Pacific football fish washed up on the shore. You might recognize the deep-sea anglerfish since it was made famous for its intimidating appearance in "Finding Nemo".
One local who took pictures of the creature described it as "the stuff of nightmares." The creepy-looking fish has jagged, sharp teeth and a small bioluminescent light on the top of its head that acts as a lure.
Paddlers hang out with the giant sunfish (December)
OK, OK, it was just a county north of San Diego but this meet is too cool not to make this list. A few paddlers made their regular hike to Laguna Beach when they came across a huge "Mola mola", also known as the ocean sunfish.
Rich German said he and his buddy dragged around the fish for about half an hour as the Mola mola glided along the surface of the water, seemingly indifferent to the pair of humans. Sunfish are estimated to be 9-10 feet long.