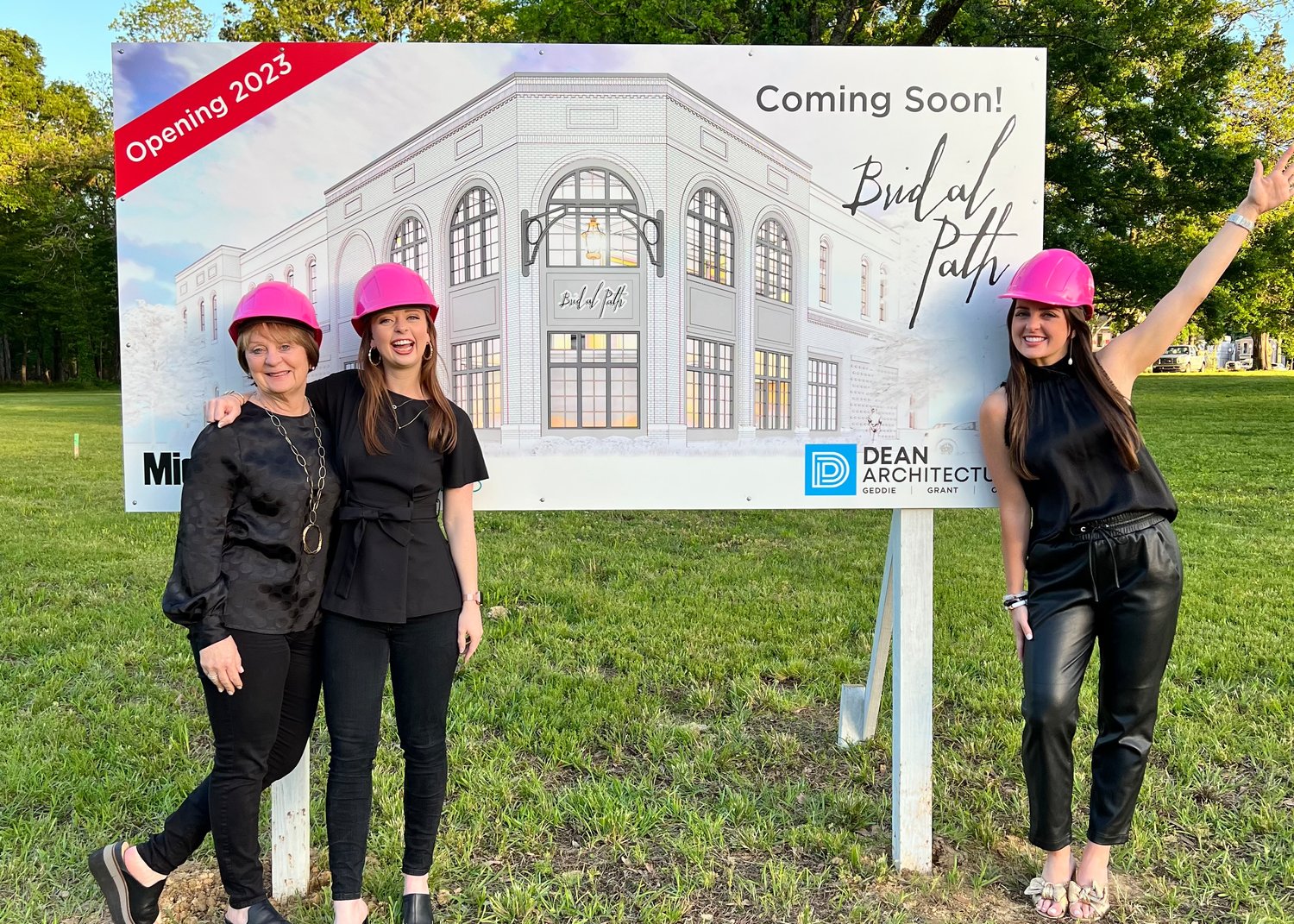 Bridal Path moves to Madison
By John Lee
MADISON — Bridal Path owner Audrey McCarty says moving her business here near where she grew up is something really special.
McCarty, a Madison native, has owned Bridal Path since 2018 after graduating from Mississippi State University.
She said her journey in the bridal industry has been nothing more than a blessing and she can't wait for Bridal Path to open to the public in 2023.
"This whole experience has been a thing of God," McCarty said. "The way I fell into it, the way it grew, and the way this business became so successful. It's been a long combination of wanting to invest in people and making sure they feel comfortable and confident during the biggest days of their lives.
McCarty's interest in the bridal business began when she was a teenager. She said since she was able to drive, she worked in retail and started out selling prom and pageant dresses at a local boutique in Starkville while attending Mississippi State University. as a freshman.
She knew she wanted to combine her love for people and her passion into one thing, so she contacted Bridal Path looking for an internship. Instead, they hired her as a sales consultant the following summer.
"My sister Ameila came into the business the next semester," McCarty said. "We felt we were an important part of the staff at Bridal Path. They took a leap of faith and hired me when I was a freshman in college, and I knew I wanted to work at Bridal Path or open a store. They gave me the store when I was a senior at MSU, and I took over in May 2018."
Bridal Path opened in Jackson in 1969, and over the past year and a half, McCarty finally decided the store needed a new home due to limited storage space.
He was born on Lakeland Drive, where The Quarter House apartments are now located. They then moved to a house across from St. Dominic and eventually to Banner Hall in 1994.
McCarty said that because Bridal Path is a one-stop shop, the store needs space for everything on offer and storage for everyone who has purchased items like gowns and gowns.
"We had a lot of weddings postponed during COVID, and we were storing a lot of people's stuff," McCarty said. "We had more weddings once COVID calmed down and our storage space filled up. We felt we had used all of our room and started discussing a new location with more space.
After considering her options, McCarty decided to move her business to Madison.
"We didn't have a lot of spacious options to build in Jackson, so we had to find a place that still felt like home to us but felt like a prime location to build this," she said. "I grew up in Madison and love it with all my heart. We felt comfortable when we found available land on Main Street. It was so special for me to have a business here close to where I grew up. I think it's going to grow a lot with this whole area growing so much. We're very happy to be a part of it."
McCarty said the new store will hopefully open to the public in late summer 2023. Once the Madison location is complete, Bridal Path in Jackson will close.
"We hope to bring the same Bridal Path experience, just in a bigger, newer space," McCarty said. "We want everyone to know that it will be the same nuptial path but with an upgrade. We are thrilled to be in Madison. Mayor Mary is amazing.
Janie Jarvis, McCarty's mother and Alderman for Ward 3 in Madison, co-owns Bridal Path and handles the store's finances, including paying bills and taxes, and handles payroll.
"We are proud to own a business that has been around for over 50 years and to continue the tradition that Jackson is proud to have," said Jarvis. "Madison has been our home for years and we are thrilled to have Bridal Path as part of it."
Jarvis recalled that McCarty was coming home one weekend from MSU and wanted to work at a bridal store for the summer, and she suggested Bridal Path.
"Audrey worked for them in the summer and vacations," Jarvis said. "His sister Amelia got involved working there just before she finished high school. Once Audrey was in high school, the previous owner came to us and asked if we were interested in buying her.
"I hadn't worked in 22 years, being a stay-at-home mom, and when we decided to buy Bridal Path, my background was banking, finance and real estate," Jarvis said. "I learned the back office part of Bridal Path and I mostly learned self-taught how to manage finances."
She said Bridal Path's reputation is known for being friendly and welcoming.
"We put people at ease and make sure they have a great experience no matter who it is," Jarvis said. "This is what Madison is, and we will fit perfectly into that. Bridal Path has always been a destination, as we have had clients 3 hours before. We want to continue to grow and prosper, and move to Madison will contribute to it.
The new Bridal Path store will be located on Main Street, just off Highway 463, across from Half Shell Oyster House. For more information on Bridal Path, visit their website at www.bridalpathinc.com.