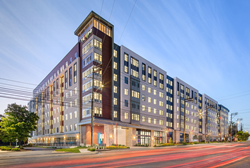 Gilbane Development Company's "TEMPO" student apartment community opens to residents

COLLEGE PARK, Maryland (PRWEB)
06 September 2022
Gilbane Development Company's "TEMPO" student apartments, a brand new fully furnished community designed for University of Maryland students, recently delivered on schedule, opening their doors to residents on August 19.
The 8-story, student-focused community features 296 units/978 beds and 300 indoor parking spaces. The fully furnished studio, one, two, three, four and five bedroom apartments have en-suite bathrooms for each bedroom, fully equipped kitchens with stainless steel appliances, washing machine/ clothes dryer, simulated wood flooring and flat screen televisions.
TEMPO residents will enjoy a top-notch set of amenities including a swimming pool, 3 outdoor courtyards, rooftop oasis with fireplace and televisions, fitness center, podcast and video studio, music studio, yoga, a multisport simulator, a creative space with 3D printer, a games room with pool tables, study room, café-bar, bike storage and covered parking. TEMPO is a pet-friendly community and offers residents a free shuttle to the University of Maryland campus.
"We are thrilled to welcome University of Maryland students to our TEMPO community," said Christian Cerria, director of development for Gilbane Development Company. "The exceptional, walkable location, combined with unparalleled amenities and unit design, provides UMD students with a truly superior community in which to live, learn, and thrive."
TEMPO has opened up to positive feedback from residents. "Bright rooms, great amenities, comfortable furnishings, luxurious living," noted TEMPO resident Gabi Gonzalez. "I couldn't ask for much more in a university apartment, the staff were great and very helpful with moving in. Plus, I love all the amazing spaces to hang out and work. I'm so glad I chose TEMPO!
TEMPO is professionally managed by Asset Living, with a strong community living program, roommate matching services and individual bed leases. For rental information, contact the Tempo team at 240-582-6055 or https://tempocollegepark.com.
About Gilbane Development Company
Gilbane Development Company is the project development, finance and ownership arm of Gilbane, Inc., a fifth and sixth generation privately held, family owned and operated holding company. Gilbane Development Company provides a full range of property development, project management and asset management services. Completed projects include over 20,000 beds of student housing, academic institutions, multi-family and affordable housing, residential communities, mixed-use, corporate offices, K-12 schools, healthcare facilities, operational | data | distribution centers, R&D | manufacturing facilities and many types of facilities provided through public-private partnerships. To learn more, visit http://www.gilbaneco.com/development or call 1-800-GILBANE.

Share the article on social networks or by e-mail: