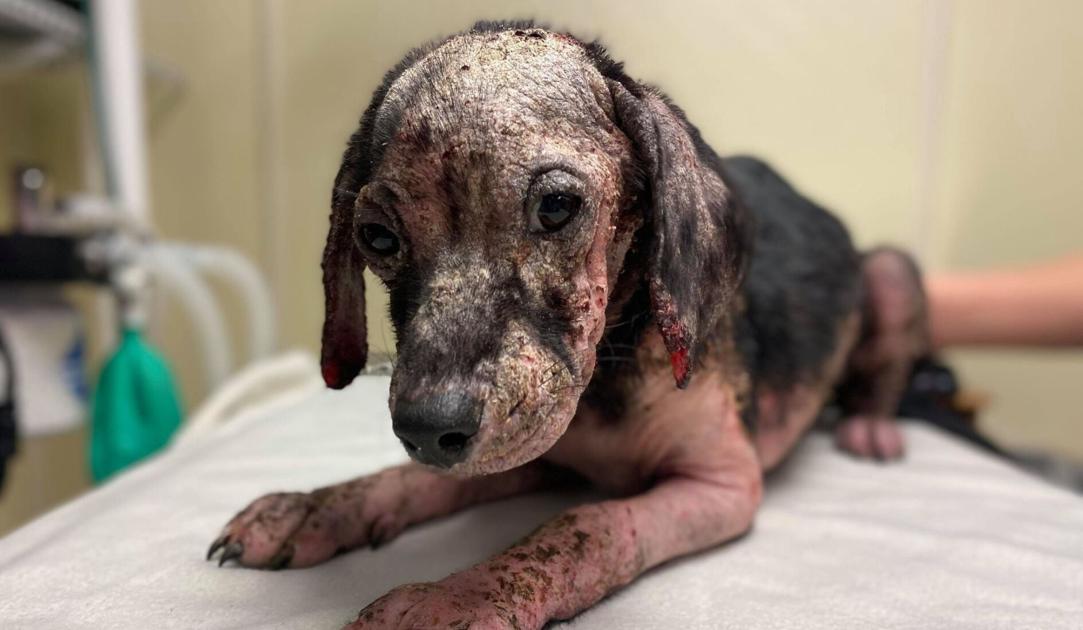 GRAPHIC: Emaciated puppy found by Kentucky Humane Society is deteriorating | New
EDITOR'S NOTE: This story contains graphic images. User discretion is advised.
LOUISVILLE, Ky. (WDRB) – The Kentucky Humane Society has said that a malnourished puppy that was found taped to a box on Friday has worsened.
According to the organization, the puppy, who has since been called "Liam", was hospitalized after testing positive for parvovirus on Tuesday morning.
"Our team rushed him to a veterinary hospital, where he is receiving 24-hour emergency care in their quarantine ward," the Kentucky Humane Society wrote in a statement. "Parvo is an extremely serious and highly transmissible virus that attacks unvaccinated dogs. Symptoms include vomiting and severe diarrhea. Parvo causes intestinal damage, leading to severe dehydration and electrolyte imbalances, and it can lead to sepsis, a fatal blood infection.
The agency says the infection could well prove fatal.
"Since Liam's immune system is already so compromised by demodectic mange and poor nutrition, we don't know if he has the strength to cope," KHS said. "Please keep Liam – an Irish name meaning 'guardian' – in your thoughts and prayers. "
The Kentucky Humane Society reminds the public that all puppies should be vaccinated to protect against parvovirus.
The agency says Liam was discovered by a KHS employee on Friday. It was inside a cardboard box that had been placed near the agency's recycle bin. The box was taped with ventilation holes and the words "FOUND HELP ME" were written on it. At the time, Liam's skin was inflamed, raw, and swollen from an infection, and most of his hair was missing. The agency says he was so weak from the infection that he was unable to stand on his own.
This story can be updated.
Previous story:
Copyright 2021 by WDRB Media. All rights reserved.