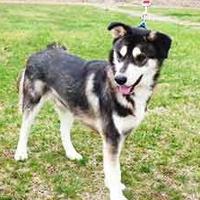 Henry County Humane Society Helps Save Texas Dogs | News
The Henry County Humane Society recently joined two others in the area to help rescue several dogs who were at risk of euthanization in Texas.
Henry County Humane Society director Joan Comstock said the Kendall County (Texas) Humane Society is over its limit of about 30 dogs, including several puppies.
"The Hey Dude Critter Rescue pulled the puppies," Comstock said.
She said the relief organization called the Fulton County Humane Society about housing and making the puppies available for adoption, and Fulton County then contacted Comstock to see if Henry County could help. to take.
"I said, 'Yeah, we're not really full right now,' so I said we'd help with the puppies," Comstock said.
The Henry County Humane Society accepted four puppies from the Kendall County facility.
Comstock added that she then received photos of dogs at the Kendall County Humane Society to see if there were any she was willing to accept. When she saw Todd, a 13-month-old Husky mix, she couldn't deny him a spot too.
"I saw his picture and I couldn't say no to him," Comstock said.
She added that she later found out that due to the length of Todd's stay at the shelter, he had to be euthanized just days after she agreed to take him.
Comstock said the dogs were transported to the area by a couple who made it their profession.
"They started this transport to help get dogs out of high mortality areas and transport them up north to many places that have the ability to take them," Comstock said.
"I guess there's a really bad dog problem in some southern states like Texas," she added.
Comstock said she doesn't know how the problem started in the South, but she thinks few people have their dogs spayed there and the animals are allowed to run around more freely.
Henry County Humane Society puppies will not be ready for adoption until they are old enough to be spayed or neutered, and are currently undergoing treatments to ensure they are healthy.
Comstock said he was told the mother was a sheepdog mix and the father was a Manchester terrier mix, which looks like a Doberman Pinscher but smaller.
Since Henry County is a no-kill haven, Comstock said Todd and the pups will stay there until they find their forever home.
"We actually had a dog that was just adopted on Saturday and he had been here for over three years, but he just moved into a big house," Comstock said.