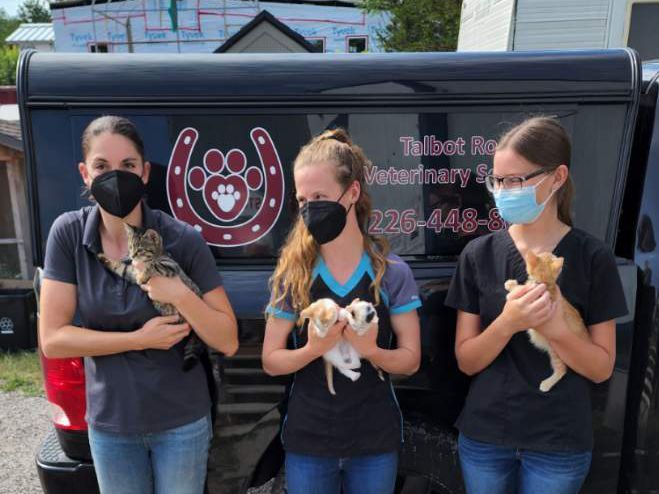 Human society struggles with lack of funding
Content of the article
The Simcoe & District Humane Society suffers from overcapacity and lack of funds.
Content of the article
This in turn means that people are welcome to care for the animals until places become available at the shelter.
"Our donations are down as healthcare costs rise. It's just a huge amount of money growing while paying for the operation of the facility," said Cathie Hosken, president of the Simcoe & District Humane Society. "With these high costs, we have had to limit the people we take in."
Hosken said some of the growing numbers of pets in need of homes are due to owners not being able to financially care for their pets due to high medical bills.
Hosken said it was the first time she had to turn people away due to a lack of funds and donations since she started at the Humane Society in the early 2000s.
"We have reached the capacity of 87 animals held at the facility," Hosken said. "We have over 240 cats, seven rabbits, one horse, five dogs, all of whom are in foster homes. We were very lucky to have host families who stepped up and helped us so that the shelter itself was not overcrowded, but it cannot continue due to the cost of care.
The Humane Society operates from a trailer on Grigg Drive in Simcoe.
Hosken said capacity was reached last month and the shelter had to limit admission to only severe cases.
The current financial situation weighs heavily on individuals and organizations in the community.
"We all need money, some are better off than others, but we're beyond broke and just because of the cost of care and the number of animals," Hosken said.
To help raise funds, The Humane Society will host a fundraiser for the Putt for Paws Golf Tournament at the Greens At Renton beginning at noon on October 2. Registration is $150, which includes a silent auction and dinner, music and a cocktail.
People can register for the tournament at www.simcoedhumane.ca.
Donations to the Humane Society can be made through wire transfers and monthly giving.
For more information, visit www.simcoedhumane.ca or call 519-428-9161.