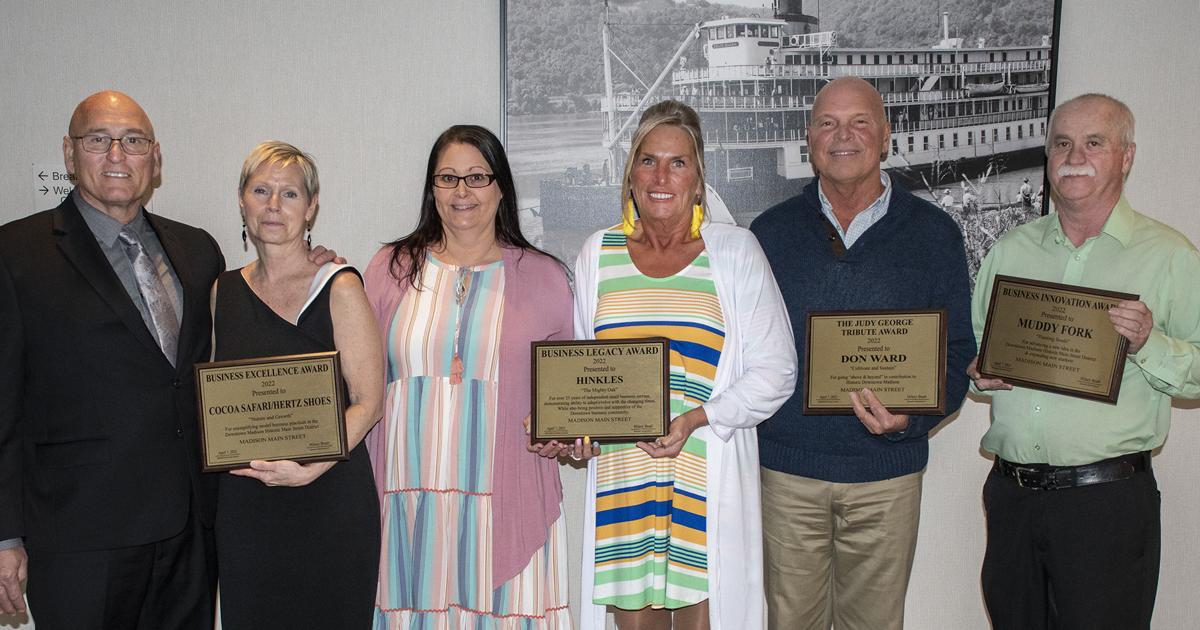 Main Street recognizes 4 at the Gala | News
Madison Main Street celebrated a year in which 15 new businesses located in downtown Madison hosted the organization's seventh annual gala and dessert auction.
"I'm very proud to be here and to be a part of all the accomplishments we've had over the past year," said Madison Main Street Manager Austin Sims.
Other accomplishments cited by Sims include taking over management of the Madison Farmers Market in 2021, hosting four Music in the Park concerts with at least 4,000 attendees, hosting a downtown Loft tour- city ​​during which nearly 300 tickets were sold and more.
The organization also recognized the companies' operations with awards given in four categories.
The Business Legacy Award was presented to Hinkle's Sandwich Shop, a Madison institution since 1933. The award was presented by Rob Houze of Crawdaddy Music, recipient of last year's Legacy Award, who cited the fond memories many People have had Hinkle's over the years. "Few companies can claim the legacy award after standing the test of time, but Hinkle's tops the list." The award was accepted by manager Wendy Abbott and supervisor Debi Rice.
This year's Innovation Award went to Wesley Cox, owner of antiques and collectibles business, Muddy Fork, and Cox's Auction Service. "Wes is always looking for ways to promote downtown Madison and its rich history of working with other businesses through joint ventures, and he's always thinking of ways to give back," said Ralph London, last year's recipient at this year's award ceremony in Cox. Accepting the award, Cox said, "Madison has just been good to me, I don't know what else to say."
This year's Business Excellence Award went to Deb Fine, owner of Cocoa Safari Chocolates and the Hertz shoe store. Colleen Sutton, vice president of Madison Main Street, said that after purchasing Cocoa Safari in 2005, Fine had made it a "world-class destination that serves tourists, businesses and countless local residents." Additionally, in 2014, Fine and her husband, Michael, bought the Hertz shoe store when "after a very long time, Bill Hertz decided it was time to retire.
"At that time, Madison was in danger of losing its local-owned, independent shoe store, like many small towns," Sutton said, until the Fines "stepped in to buy Hertz shoes… Thanks to the Fines for having offered such great businesses in our downtown area.
Deb Fine said the award was "unexpected … I love Madison. I just like working here and living here.
Finally, the Judy George Tribute Award, named in memory of longtime owner of The Attic, Judy George, was awarded to Don Ward, editor/publisher of the Roundabout Entertainment Guide from April 1999 until the announcement of his retirement in December 2021.
"As you know, Judy George loved downtown Madison and the people who live, work, shoe and eat here," George's daughter, Julie Truax, said when receiving the award.
"It's a great feeling to be recognized by your docks and the community," Ward said.