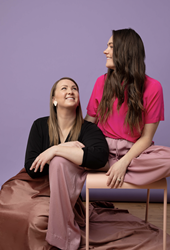 soona raises $35M Series B to expand its virtual content creation platform for e-commerce
"Content is the difference between making a sale and not, which is why soona is so popular with our customers. soona levels the playing field so that every merchant can realize their sales potential," said Liz Giorgi, co-founder and CEO of soona.
DENVER (PRWEB)
January 24, 2022
Today, soon, the world's first virtual content creation platform for e-commerce, announced that it has raised $35 million in Series B funding led by Bain Capital Ventures. Previous investors Union Square Ventures, Matchstick Ventures, Starting Line Ventures, 2048 Ventures and Range Ventures also participated in the round. soona, which is transforming the way brands create content for e-commerce and marketing through its virtual photo and video shooting technology, will use the funds to fuel rapid growth. The company has over 8,000 branded customers and has grown over 300% in 2021 and 400% in 2020.
Online shopping has increased 17% in 2021 and should continue to accelerate. soona's platform helps businesses meet the growing demand for quality e-commerce visuals by disrupting the traditional content creation model. soona offers high-quality designs, a fast 24-hour turnaround, and transparent pricing, all in a collaborative and intuitive online platform.
"There isn't a single transaction that happens on the internet that doesn't involve a visual asset," said Liz Giorgi, co-founder and CEO of soona. "Content is the difference between making a sale and not, which is why soona is so popular with our customers. soona levels the playing field so that every merchant can realize their sales potential."
The platform's approach of providing everything a brand needs to plan a shoot, experience the shoot, and get their content fully online stood out. One example is soona's professional services marketplace, which connects brands with models and stylists, and saw business grow 500% in 2021.
"soona has defined a whole new category in e-commerce," said Scott Friend, partner at Bain Capital Ventures. "Essentially, all brands are now selling online, and to do so, they rely on an integrated set of technologies to grow their businesses. One of the key capabilities that every online seller needs is image production. soona is the first to solve the visual layer of the e-commerce stack with an automated, cloud-based solution that produces super-high quality results for brands at a fraction of the time and cost of existing solutions Liz, Hayley and their team have built a tremendous base of customers, technology and momentum BCV is really excited to soon add to our growing list of commerce technology leaders like Attentive Mobile, ShipBob, Recharge, Bloomreach and Flow.
"This funding will allow soona to continue to be the global innovator in online content creation," said Hayley Anderson, co-founder and chief product officer of soona. "By investing more in our proprietary technology, we are expanding the possibilities for merging creativity and content online."
When it works:

Clients book a shoot with soona's self-service software and choose from curated and recommended shoots or choose the option to create their own shoot. Brands can select everything from background color and accessories to models, stylist or pets from its professional services network.
Customers ship their products and join their online photo shoot in real time via Virtual Photoshoot.
The à la carte menu makes the content affordable. Photos for $39 and video clips for $93 also mean brands buy only the content they love and pick it up within 24 hours.
Brands can easily organize content within the platform, revisit previous shots, and purchase their past shots for more content anytime.
With soona's 5-star Shopify app, brands can then redeem content within their store and product listing pages with a single click.
Brands like SNOW cosmetics have made soona an essential part of their e-commerce process. "We've seen our conversion rate increase over time the more relevant our content is," said Josh Snow, founder and CEO of Snow cosmetics. "Being able to have a partner like soona to generate hyper-relevant content sometimes within 24 to 48 hours allows us to outrank our competitors."
With over 8,000 customers, including Lola Tampons, The Sill, and Wild Earth, and three centers in Austin, Denver, and Minneapolis, soona helps businesses sell products in various product categories, including beauty and cosmetics, health and wellness, fashion and footwear. , household items and pet care. For more information on how soona can help your brand, visit: soona.co.
About soon

soona is a content creation platform that helps brands produce professional quality photos and videos. The company was founded in 2019 by Liz Giorgi and Hayley Anderson after the successful acquisition of their first company, Mighteor. Liz and Hayley are a dynamic founding creative team with a shared vision of using technology to enhance the work of creatives and improve access to high-quality, personalized content.
About Bain Capital Ventures

Bain Capital Ventures partners with disruptive founders to bring their ideas to market faster. BCV invests from seed to growth in startups that drive transformation across all industries, from SaaS, infrastructure software and security to fintech and healthcare, commerce and consumer tech . The company has helped launch and market more than 365 companies, including Attentive, Digital Currency Group, DocuSign, Flywire, Jet.com, LinkedIn, Redis Labs, Rent the Runway, SendGrid and SurveyMonkey. BCV has $9.2 billion in assets under management with offices in San Francisco, New York, Boston and Palo Alto. Follow the company via LinkedIn and Twitter.
Share the article on social networks or by e-mail: